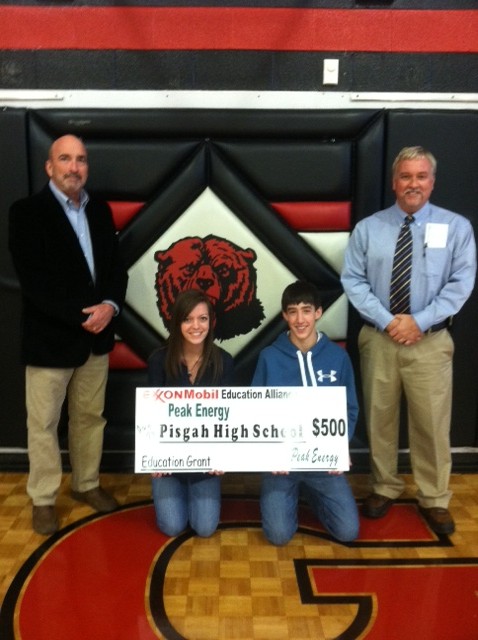 Pisgah High School is a recipient of an ExxonMobil Educational Alliance Grant through Peak Energy, a distributor in Western North Carolina.  Mark Higdon, wholesale manager, and Jessica McCoy, retail supervisor presented the generous amount of $500 on behalf of ExxonMobil and Peak Energy.
Peak Energy provides petroleum products, services and solutions for homes and local businesses as one of the largest oil heat and petroleum marketers in the region.
The ExxonMobil Educational Alliance is "supporting education one school at a time" by granting money for schools each year, directing that the funds be used for math and science activities.  This year, ExxonMobil Educational Alliance is granting $1.8 million to benefit schools, including many public and nonprofit private, primary, and secondary schools.  Some of the ideas for using funds include program enhancements such as films, speakers or field trips to science centers; student volunteer programs; scholarships or awards to encourage academic or leadership experience in math and science, science fairs; parent/student events; or educational tools such as computers, math or science books, calculators and software geared toward math or science.
Tags: Pisgah High