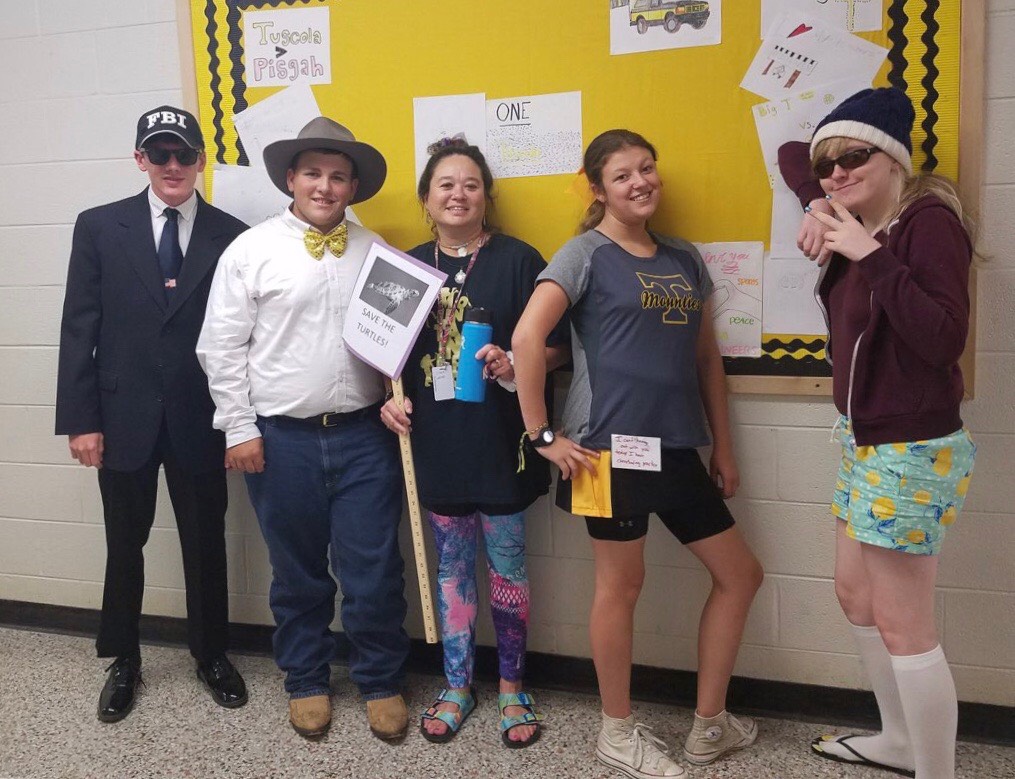 Walking through the halls and lobby of Tuscola High School, you might come across a trophy case, some faded pictures hanging on the walls, and an abundance of black and gold. What's the significance of all of this? Tradition. It's what makes up our school and has formed it into what it is now. Those trophies and pictures represent all that we have been, and all that we will strive to be in the future. While Tuscola has many long standing traditions, new ones continue to be added. These traditions are a part of each and every Mountaineer who walks down those halls of black and gold.
At Tuscola, an important part of our tradition is school spirit, and we take it seriously especially during rivalry week. The whole week of the Pisgah vs Tuscola game, Monday through Friday, we have spirit days. They range anywhere from "Beach Day" to "Wild West Day" or anything in between. Dressing up gets the entire school, including teachers, counselors, and lunch ladies, excited and pumped for the big game. Each day we stand on the chairs in the cafeteria and sing the fight song. One of our biggest goals at Tuscola is to get everybody involved; even if it means getting some shy freshmen to stand up and yell as loud as they can in front of the entire lunch room! We have a spirit shirt each year that many students wear on the Friday of the game with our camo and hunting vests as we prepare to "bear hunt" that night. The annual pep rally gets the student body and football team excited for the game. The entire school doing Big What? Big T in the gym is an experience Tuscola students will never forget. Not only do we show spirit for football and the rivalry game, but we also make signs, have spirit days, theme nights and good luck candy grams for all sports throughout the year. We dress up, tailgate, and rally for our Mountaineers all year long!
During rivalry week, students are not only busy with spirit days, we also go out into the community. We have visited Silver Bluff nursing home in the past, and this year Maggie Valley Nursing and Rehab invited us to visit their residents. They decorated and dressed in our spirit days this week. National Honor Society helped the Big T committee make signs, and cheerleaders also go to local elementary schools to help with the car lines in the morning to get the kids excited about the rivalry too. Our parents and fans will caravan with both the JV and Varsity teams on the way to their big games.
One tradition that Tuscola has and will always have, is our love for 'the hill'. Many different people have passed through Tuscola, but one thing remains constant–where it stands. It truly is our own little 'castle on the hill'. And not to mention, there's nothing like the view from our parking lot of fireworks, a sunset or snow over the mountains. While we have many traditions that are tried and true, new ones are added along the way. One newer tradition we have is the seniors following the drum line down the halls as we go to the pep rally for the rivalry game. The drums playing while your entire class walks together is a memory to hold onto forever. And that's what's really amazing about all of our traditions- old and new. They give everyone who passes through the halls of  Tuscola memories to carry with them as they leave "the hill" to go to new places and meet new people, and remind them, it truly is great to be a Mountaineer.
Guest Editor:  Jessica, Tuscola High School Class of 2020