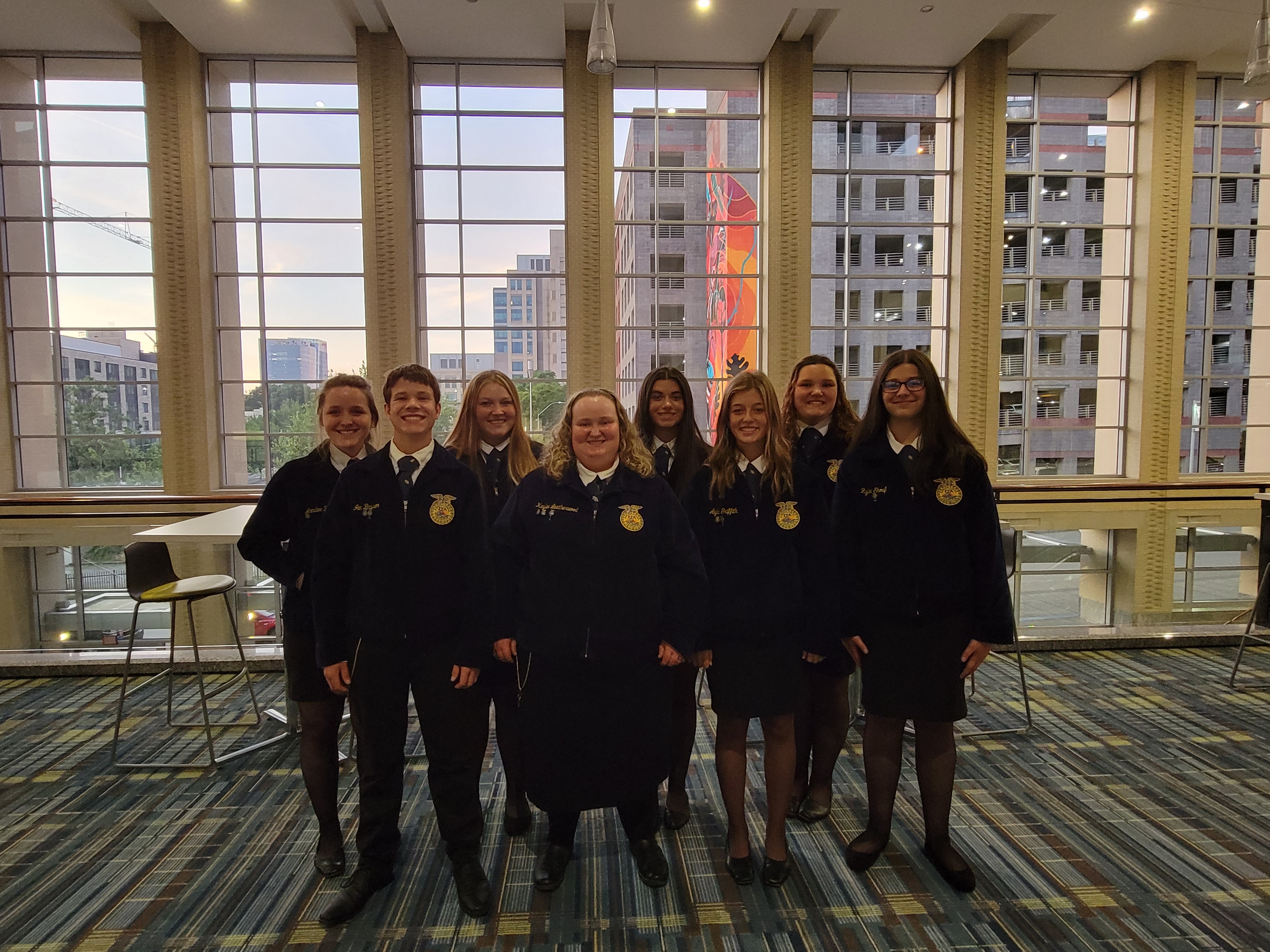 Last week PHS FFA traveled to Raleigh for the 93rd NC State FFA Convention. This was the first time in 3 years that convention was held in person due to COVID.  PHS had 2 students receiving their Old North State Degree and 2 competitive teams.
The Old North State Degree is the highest degree awarded by the NC State FFA Association.  In order to qualify for this degree, students must have received their Chapter Degree, been an FFA member for 2 years, completed at least 2 years of agricultural education, earned and productively invested $1,000 and worked at least 300 hours in their Supervised Agriculture Experience project, demonstrated leadership, have a satisfactory scholastic record and have completed 25 hours of community service. Ian B. and Kaylee L., both 2022 graduates of PHS earned their degrees this year.
The Floriculture competition requires students to qualify on the regional level to participate in the state contest.  At the state level, students must identify 25 plants from a list of 112, take a 25-question knowledge test, complete 10 problem-solving questions surrounding the floral industry, and perform a practicum.  This year's practicum was to create a 3-stem bud vase complete with floral bow suitable for sale in a florist shop.  Pisgah's Floriculture team consisted of 4 young ladies who were all new to this competition.  They went up against 20 other regional qualifying teams and placed 6th in the state, and 1st in the West Region, coming out on top of Enka and Franklin.  Team members were Annalee P., Deanna R., Rylee S. and Autumn W.
The Meats Evaluation competition requires students to take a 25-question written knowledge test, identify 25 retail cuts of meat from a list of 120 possible cuts, place 2 classes of primal or retail cuts, identify muscle groups and bones from a carcass and complete a problem-solving activity involving formulating the least cost of a batch of particular meat products.  This year was the first year Pisgah has ever participated in this event, going up against 27 other teams from across the state.  This year's team placed 8th in the state and 1st in the West Region.  Other teams from our region competing were Madison and Brevard.  Team members were Ian B., Ayla G., Kaylee L. and Addison P.
Also, at convention, PHS Agriculture Teacher Joshua Justice was awarded the Honorary State FFA Degree.  This degree is the highest honorary degree awarded by the NC FFA Association and is given to those who have provided exceptional service on the state level to agriculture, agricultural education or FFA.
The past three years of COVID, floods, cyber attacks and upheaval have taken a toll on FFA programs and "normal" school life, but these students have shown they are resilient and still have a strong desire to lead and achieve successes for themselves and for the Pisgah FFA.
Submitted by:  Courtney Smith, Pisgah High School