Tuscola Students Participate in Western Regional Science Fair at WCU
March 28, 2012 by admin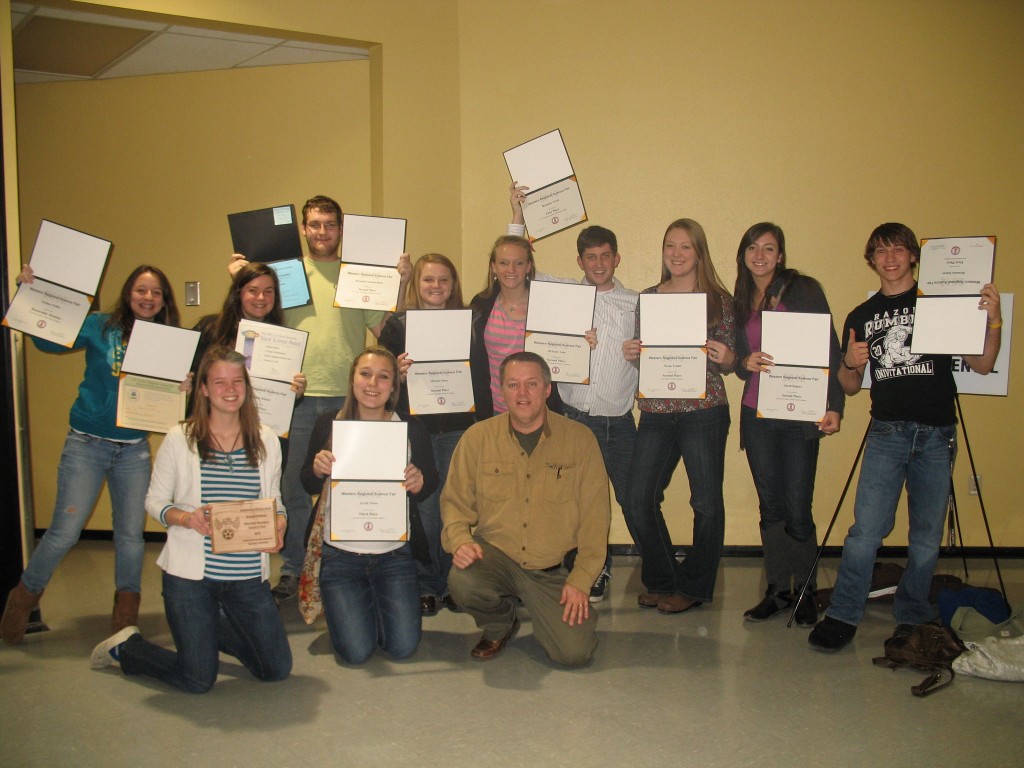 Tuscola students and their science projects headed to Western Carolina University to participate in the Region 8 Western Regional Science Fair held on Wednesday, February 8.  By the end of the fair 11 of the 12 participating Tuscola High School students had received at least one award.  These students, all members of the Advanced Chemistry II class taught by Jim Davis have proof that quality scientific inquiry outside the classroom does payoff.
Several special awards were presented to deserving projects. These awards did not affect rankings for the primary awards given by fair judges.  However, these awards did recognize projects of distinction. Tuscola students received four of these awards.  Matty Thurman's project won a special award from the US Air Force for Aerospace Excellence.  Lindsay Kihnel received the US Navy's Naval Science Award for a Project of Distinction.  Jeremiah Stanton-Rich was the recipient of an award presented by Pisgah Astronomical Research Institute and Sydney Fuller's project was honored with the guest speaker's  special environmental award.
The category award winners at Tuscola included 2 first place winners.  Brannon Inman received the award for first place in the Senior Physics category and Brandon Truitt's project was the recipient of the first place project in Senior Technology/Engineering.  Inman's project examined the strength of various types of glue and Truitt's project examined the effect of changing octaves for 2 popular songs.
Other awards for Tuscola students were Sarah Rogers (2nd place Sr. Earth/Environmental), Nicole Trader (2nd place Sr. Chemistry), Jeremiah Stanton-Rich (2nd place Sr. Technology/Engineering), Michala Muse (2nd Place Sr. Biological Science B), Brittany Ashe (2nd place Sr. Biological Science A), Arrah Owen (3rd place  Senior  Earth/Environmental), Lindsay Kihnel (3rd place Senior Biological Science B) and Sydney Fuller (honorable mention Sr. Earth/Environmental Science),
Students who finished 1st or 2nd in their assigned category are now eligible to participate in the 2012 North Carolina Science and Engineering Fair that will be held March 23-24, 2012 at Meredith College in Raleigh, North Carolina.
~Photo courtesy of Tuscola High School