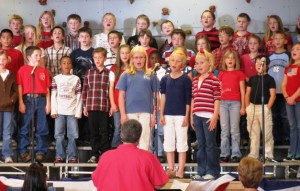 During the week of November 7th, students across Haywood County honored Veterans in a variety of Veterans Day celebrations.
At Hazelwood Elementary, fourth graders honored Veterans Day with a musical directed by Kay Atwood.  The guest speaker was Roy Pressley, who is a veteran of the Air Force.  In his speech, Mr. Pressley explained to the audience what a veteran is.
The students honored veterans of the military by carrying a flag that represented each branch.  Veterans in the audience stood as their flag and anthem was represented.  The students wrote thank you notes to Mr. Pressley expressing their appreciation for his service to our country and for explaining how we should honor veterans and respect the American Flag.