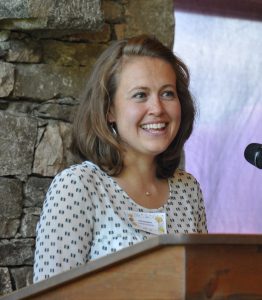 The 2017-2018 Teachers of the Year were recognized at the annual luncheon on September 8, 2017, at Laurel Ridge Country Club.  Congratulations to Kristi Blackburn, Special Education Teacher at Junaluska Elementary School, who was selected as the 2017-18 Haywood County Schools Teacher of the Year.
Kristi attended Appalachian State University and is currently taking classes at Gardner Webb University.   She has taught 1st, 2nd, 3rd, 4th grades, RTI and Special Education during her 17 years of teaching.
In her Teacher of the Year portfolio, she states, "There were many factors that influenced my decision to become a teacher but the most prominent reasons were the legacy of educators in my family. I grew up in a family of teachers. My grandmother, two great aunts, my mom and two aunts were teachers. My great grandfather became a single parent of 8 children when the youngest was only 5, and while life wasn't easy, education was important. In those days farming was what everyone did and not everyone went to college. That wasn't the case in my family because my great grandfather put all 8 children through Appalachian and many of them became educators."
Our Teacher of the Year loves teaching and gives 110% to teaching children and working to improve their lives.
"My greatest contributions and accomplishments have been improving the lives of my students through learning. Telling my own stories is my way of continuing the legacy of the importance of learning and getting an education. I am thankful to those educators in my past, and I look forward to continuing to become more and more effective and support more students to fuel their own learning passions.  The idea that there are students who think they can't  read or aren't smart with numbers at such early ages make my heart heavy. We must teach as if their lives depend on it – because it does?"
Haywood County Schools congratulates all our Teachers of the Year:  Meredith Jordan, Bethel Elementary; Ron Hundley, Bethel Middle; Amy Tiller, Canton Middle School; Robert Allison, Central Haywood High; Megean Wantz, Clyde Elementary; Beth Hooper, Haywood Early College; Susanne Cauley, Hazelwood Elementary; Elizabeth Reis, Jonathan Valley Elementary; Kristi Blackburn, Junaluska Elementary; Nicole Foster, Meadowbrook Elementary; Michele Burris, North Canton Elementary; Timothy Shepard, Pisgah High; Nikki Barker, Riverbend Elementary; Dawn Williams-Tox, Tuscola High; Williams Yates, Waynesville Middle.