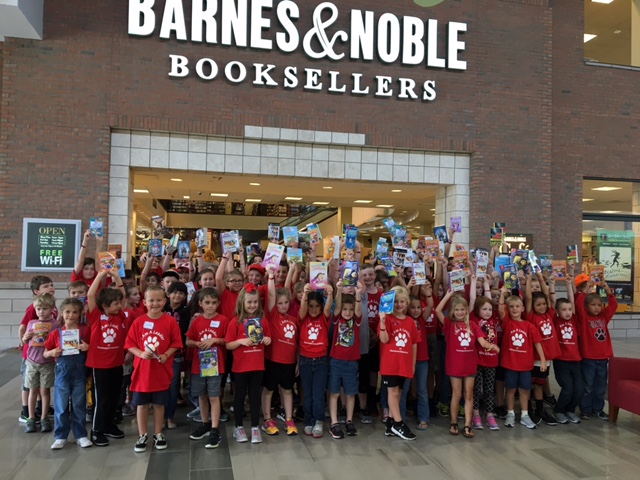 Over 80 Hazelwood Elementary students got the chance to take a field trip to Barnes & Noble in Asheville recently to celebrate their accomplishments in Summer Reading!  Students earned the privilege to go on the field trip by participating in the Summer Reading program at the Haywood County Public Library and the Barnes & Noble Summer Reading Adventure.
When Hazelwood students went to the Haywood County Public Library throughout the summer, they received a bead to add to a bookmark they had created.  Students could attend some of the wonderful programs organized by the Librarians at the HCPL or just go to read and check out books there.  If they went at least four times, they would have achieved their Summer Reading goal.
To participate in the Barnes & Noble Summer Reading Adventure, students had to read 8 books and then write a short summary telling about their favorite parts.  Once this form was completed, students were able to turn it into the booksellers at Barnes & Noble and pick a free book once they arrived at the store.
Hazelwood Elementary is definitely a school of readers as evidenced by the number of students boarding the buses that morning.  Students were excited on many levels – for achieving their reading goal over the summer, for going on a field trip to a city that some students had never visited, for being able to get a free book of their choice, and for a special lunch at Chick-fil-A!  The excited students were very quiet on the bus ride home though as many of them hunkered into their seats and began reading their books.  We are very proud of these students.  They were truly practicing our 7 Habits and especially Habit #3:  Begin with the end in mind.  They began with the end in mind at the beginning of summer and made the commitment to reach their summer reading goal.  Congratulations!
Submitted by:  Carol Clarke, Hazelwood Elementary