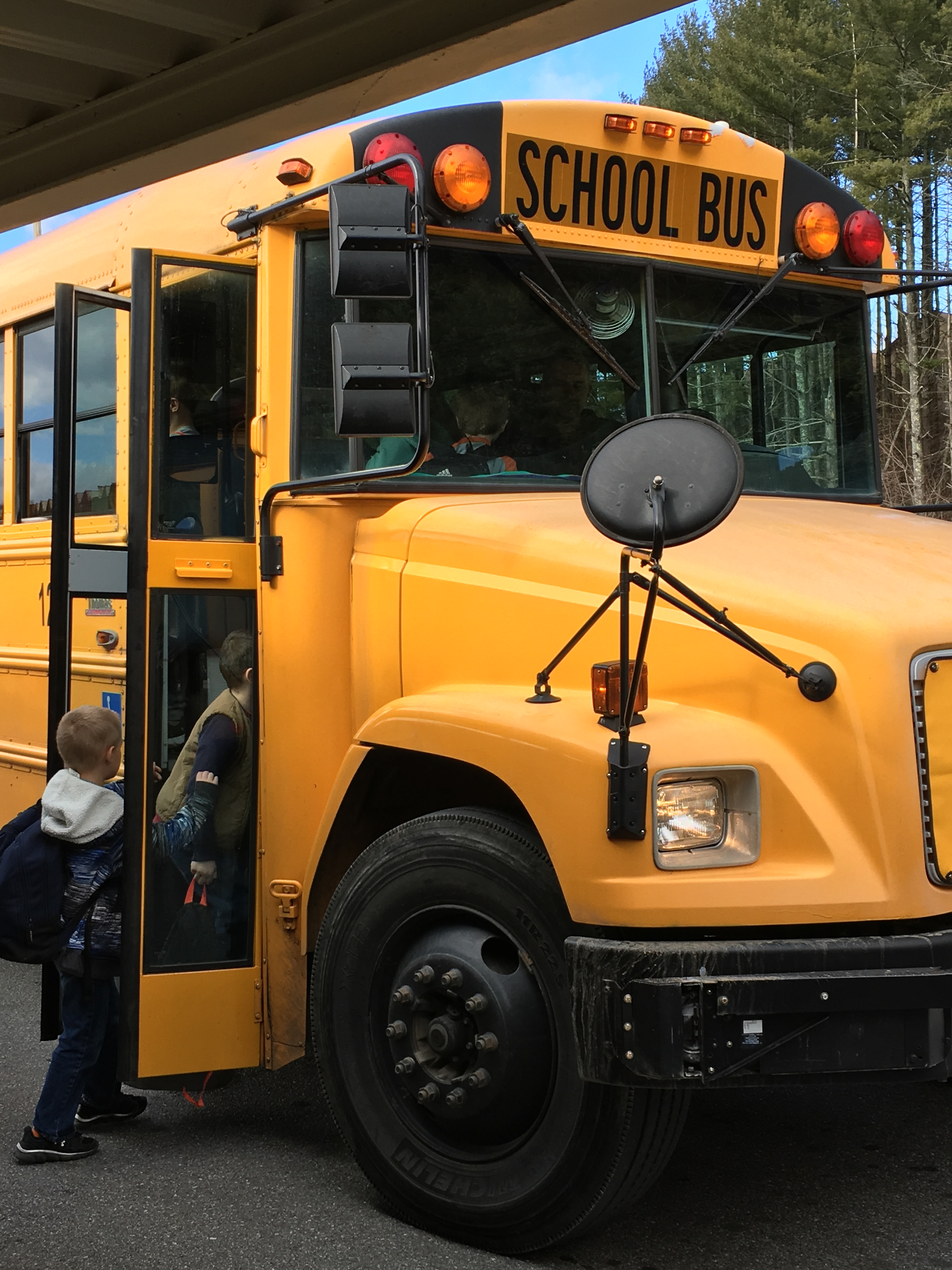 Haywood County Schools honored bus drivers February 12-16 as part of North Carolina School Bus Appreciation Week. Each day during the school year, students living on the rural roads of Fines Creek to the narrow neighborhood avenues of Canton are transported by Haywood County Schools' buses. Haywood County Schools operates 71 buses, which transport an average of 3,500 students daily.
Schools across the county honored bus drivers throughout the week and recognized them for their commitment to safely transport students.
Pat Cochran is one of Haywood County Schools' 90 bus drivers. She has been driving a school bus for 39 years – all spent at Hazelwood Elementary School and Waynesville Middle School.
"I just love the kids. I just can't seem to give them up," Cochran explained. "Every year around May I think about retirement, but in August I'm always ready to go back to my kids."
School bus drivers go through intense, highly-specialized training to ensure they are knowledgeable about student behavior management, school bus features, the loading and unloading process and security and emergency medical procedures. In order to keep their Commercial Driver's License (CDL) with a School Bus Endorsement, drivers must participate in pre-employment and random drug and alcohol tests, driving record checks, background checks and medical exams. The safety, security, health and driver qualification standards, by which the school bus industry abides, in some cases, exceed federal and state laws. This is to ensure that school buses remain the safest mode of transportation for all United States school children.
"Our drivers are passionate about what they do and take very seriously the safety and well-being of the students on their buses," Mark Sheppard, Haywood County Schools director of transportation, said. "Our drivers have a huge responsibility to drive safely and deliver our community's most precious cargo to and from school each day."
The mechanics and support staff of Haywood County Schools were also recognized for their vital role in keeping the county's 71 yellow buses, 12 spares, and 25 activity buses running safely.
Students nationwide are about 70 times more likely to get to school safely if they take the school bus instead of traveling by car, according to the National Highway Traffic Safety Administration. In addition, school buses reduce traffic by keeping more than 17 million cars off roads each year, the American School Bus Council says, while also saving approximately 2.6 billion gallons of fuel.
The school bus system is the largest transportation system in the United States. According to the North Carolina Department of Public Instruction, more than 13,000 school buses operate daily in the state carrying more than 750,000 students.
Submitted by:  Carrie Sutton, Haywood County Schools Foundation