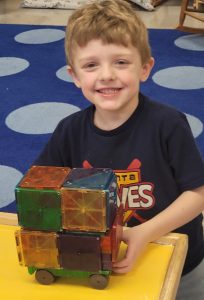 Applications for the North Carolina Pre-Kindergarten program in Haywood County for the 2023-24 school year are now available.
Students who are eligible for the program must be 4 years old prior to August 31, 2023, live with a parent or guardian in Haywood County, and attend a developmental screening appointment. Children of active-duty military families are also eligible.
The Haywood County Pre-K program offers a high-quality education designed to enhance school readiness for eligible 4-year-old children. The following elementary schools in the county have Pre-K classes: Clyde, Hazelwood, Jonathan Valley, Meadowbrook, and North Canton. This program is made possible through Haywood County Schools' partnership with The Region A Partnership for Children and the Division of Child Development and Early Education.
The Haywood County Schools' Pre-K program meets all 10 National Institute of Early Education Research benchmarks. Benchmarks include comprehensive early learning standards; staff education and licensure requirements, professional development; 1:9 staff/child ratio; developmental screens and referral; evidence-based curriculum and formative assessments; monitoring and nutritional requirements.
Pre-K Applications may be requested online at this link or picked up at the Haywood County Schools Central Office, located at 1233 N. Main St., Waynesville. The deadline to submit applications to Haywood County Schools' Central Office is Monday, May 1 by 4:00 p.m.
Parents and guardians who have submitted an application will receive a screening appointment for their child. Screenings are planned to occur on Friday, May 19 at all Pre-K class locations.
For more information about the NC Pre-K program, call Jenifer Rogers at 828-456-2400.