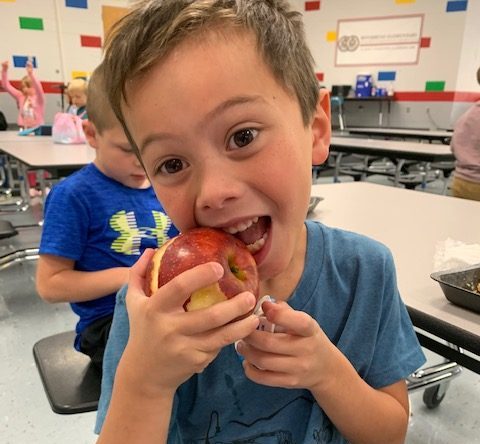 This year, all Haywood County Schools will participate in the Community Eligibility Provision (CEP). CEP provides breakfast and lunch at no cost for every student, so families do not need to complete an application to qualify.
USDA covers the cost of the meals for ALL students. You are not taking meals away from someone who might need it more.
Every meal served helps your local food service program financially and keeps local food service staff employed.
WHAT DO WE OFFER?
Meals are safe, nutritious, and delicious! The cafeteria offers a wide array of healthy meal choices and fresh fruits and vegetables daily.
In order for meals to be at no cost, students must select enough items to make a complete meal. For example, if a student only wants milk, it must be purchased for $0.75. Picky eater? Pack a sandwich and choose 3-5 items to compliment the meal at no cost.
WHAT DOES A MEAL CONSIST OF?
For breakfast, students must select at least 3 out of 4 items. One must be a fruit/juice.
2 oz of grain/bread/meat
4 oz of 100% fruit juice
½ cup of fruit
8 oz of milk
For lunch, students must select at least 3 out of 5 items offered. One must be a fruit or vegetable.
1 serving of meat/meat alternative
1 serving of grain/bread
1 serving of vegetable
1 serving of fruit
8 oz of milk
For your convenience, the cafeteria will still offer a la carte and snack items for purchase daily. Parents/guardians are encouraged to monitor and fund their child's account at www.k12paymentcenter.com.